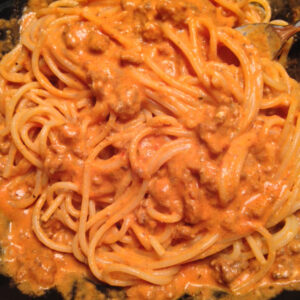 This is by no means a healthy recipe. This is a true-blue comfort meal that I serve because it is delicious and my husband loves it. But there's a reason it is so delicious. Calories. And lots of them! Like maybe a million. If you are trying to eat 100% healthy- turn back now! This is not what you seek! If, however, like me the cold air and gloomy weather have you in the mood for something hot and truly comforting, then read on, my friend, read on. Don't say I didn't warn you!
I like to make a big batch and then have leftovers or freeze half for another meal later in the month- sometimes both! This recipe makes about 8-10 servings, so adjust accordingly to what you like to do.
Ingredients:
3 lbs ground beef (I like to use 90/10 or higher and if possible, grass-fed)
3 jars vodka sauce (I love Prego's version- I'm working on perfecting my own to take out some of the processed food from this recipe, but I have not perfected mine and it's expensive to make)
1 brick cream cheese
1/2 cup heavy cream (might be unnecessary but adds a really creamy mouth feel)
Onion, Garlic and Italian Seasoning to taste
Directions:
Brown and drain, if necessary, ground beef and add onion, garlic and seasonings
Add vodka sauce and use heavy cream to remove the final bits in the jar by shaking it out
Allow to warm over medium-low heat until warmed through
Add cream cheese, cut into small chunks and allow to melt while stirring occasionally
When sauce is fully combined, serve over noodles and stir to coat all of the pasta.
Enjoy!