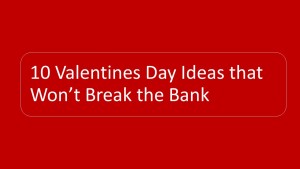 Valentine's Day is a time for romance for you and the one you love. But flowers, chocolates and dinners (with a bottle of wine- or two) can quickly add up. So how do you keep your budget on this special day without losing the romance? Here are ten ideas to help!
Romantic dinner and a movie- at home.
Whip up his favorite meal, or go all out and make a 5 course romantic feast! Just make sure to not over complicate your meal- you don't want to put in all that effort just to find you've burned the secret sauce! Do whatever you feel comfortable with but make sure you set the scene- mood lighting, soft music, candles- whatever makes you feel the romance too! Follow it up with a movie from Netflix or redbox- no need to break the bank and you can cuddle much easier on the couch than in those uncomfortable chairs at the theater anyway!
Homemade bouquet of all of his favorite things.
A bouquet of flowers is nice, but a bouquet of his favorite candy, or beer, or hobby item shows you really care. If you take the time to pick out his most favorite things, it will show that you put effort into your gift and that you really know him. My husband likes scotch, so mine might include some airplane bottles of scotch, some twix bars and starburst, and some paper roses with love notes written on the petals.
Go on a sunset picnic.
Is there a place nearby where you can roll out an old blanket and take in the view? Maybe a lakeside park or scenic overview? (Hint: anywhere known as "make out point") Pack up a basket (or plastic bag- we're not fancy!) with all of your favorite finger foods and a bottle of your favorite bubbly and head out. Watch the sun set while you enjoy your food then lay back and check out the stars. You can take the time to talk about all the things you never have time to discuss with all of the daily distractions!
Go for a hike
Get up early and get the blood pumping! Have a nice big breakfast, pack some water and trail mix and hit the road! Find a place that's a little off the beaten path and head out for a hike. Make sure you choose a trail that is not overly ambitious for either of you- this is a date, not a competition(unless you both love competition- then go for it!)
Create your own cooking class at home
While it's nice to whip up a romantic dinner for your man, it might be more fun for you to whip up said meal together! You can record a cooking show and follow along, use a favorite cookbook, or find something on every girl's new BFF: Pinterest. Keep it fun, don't fret if you mess up. You are in it together, and you can fix it together- or worst case scenario, scrap it and make sandwiches!
Trade romantic massages
Candles, romantic music, massage oil. What better setting for a little romance? Trade off giving each other massages, however you like. You can each do whole body or go back and forth- start with foot massages, then head, then shoulders and work from there. Wrap it up by washing all that oil off in a bubble bath (or shower) for two!
Have a game night
You can have fun with this. Choose something that fits your couple personality. Competitive? Maybe a game of basketball at the local park. Board games are fun, too- just keep it interesting with some drinks, or friendly wagers (if I win this round, you'll ________). And of course there's always strip poker if you want to really keep it interesting!
Go dancing
If you want a little more active activity, why not go out to the local dance club? Whether you like line dancing, hip hop, or ballroom style- there are plenty of options and you can usually get in for less than a trip to the movies. Look online to see what you have nearby and head out to bust a move!
Step out of your comfort zone
Is there anything you've been putting off because the timing wasn't quite right, you just didn't get to make the plans, or seemed a bit out there? Now's a great time to give it a whirl! When you do things that are not part of the same old, same old, it strengthens your bond as a couple and releases dopamine, the love hormone. Nothing is off limits! You could discover a new favorite activity, or at worst have some awesome memories and stories that will be just for the two of you for years to come!
Get some culture
Many museums and art galleries are cheap or free to get into. Dress up in your fancy pants and head out to one that interests both of you. You can enjoy the exhibits but if you find they are a little overly pretentious you can change the evening to being "critics" and make a game out of it. (Ah, yes. The single red dot on the black canvas took the artist years to plan. It represents world peace in a time of infinite sorrow.)
The bottom line is, there are many activities you can do as a couple that are cheap, fun and romantic. These are just a few ideas to get you thinking about what you might enjoy. I hope each and every one of you have a wonderful Valentine's Day! What are your favorite low-budget date ideas?