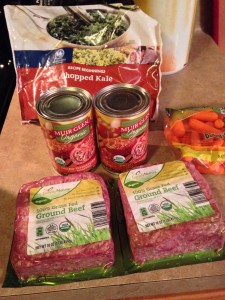 It's been cold and I've been busy at work, so it is the perfect time to bring out the slow cooker and whip up a batch of chili! This is a simple recipe that can be made on the stove top or (my favorite) in the crockpot, and it will really satisfy on a cold day!
Ingredients:
2 lbs ground beef
2 Large cans or 3 small cans diced tomatoes
1 1/2 cups frozen kale
1 cup carrots
1 onion
1 bell pepper
1 small head of garlic (or to your family's taste- we LOVE garlic!)
1/8 cup chili powder
1/4 tsp smoked paprika
1/2 tsp celery salt
salt and pepper to taste
Directions:
Brown ground beef (or if you are short on time, you can use raw beef) and add to slow cooker, set to low
Put all veggies (including tomato sauce) in a blender- if you want to hide the veggies. I do this because my ninja will chop up everything for me- no more tears! Blend until smooth sauce is formed.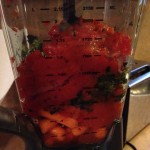 Pour sauce over ground beef. Add seasonings.
Stir together and cover.
Cook on low 4-6 hours (browned meat) or 6-8 hours (raw beef)
Enjoy!