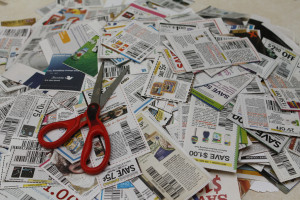 You have the best intentions: You get the little pile of coupons that print with your receipt every shopping trip and diligently put them in your purse or on the fridge for next week. You get the weekly fliers and go through them to find the best coupons and cut them out. This is the week, you say. I'm going to use them this time!
A week goes by, and another and your pile of coupons grows. You finally remember to grab them for your trip and they are expired! Oh, no! Next time will be the time you use the coupons to save on your groceries!
What if I told you that I almost never use traditional coupons and I still save around 50% on groceries? What if you didn't have to do any more clipping, filing, saving and most importantly, remembering? Well, here's my plan for saving a tom of money without coupons!
First of all, I have nothing against the use of coupons. If I have a really good one, and I remember to bring it with me, I will absolutely use it. I just have two major issues:
1. The foods I buy almost never have coupons
When you are focused on eating whole, real foods it is difficult to find coupons. When's the last time you received a coupon for meat or veggies? Since most coupons are from manufacturers and they offer mostly processed items, I rarely need any coupons for those items.
2. I don't have the energy required to maintain, sort and remember the coupons
If I find a coupon on the product that says "save $1 now!" I will gladly peel it off and use it then and there. However, if the coupons are all in a bunch in the bottom of my shopping bag, I am very unlikely to remember to pick out the few useful ones and pack them in my wallet for the next grocery trip.
So, what's a girl to do in order to still save a significant amount on groceries (especially real, healthy, unprocessed foods) without using those coupons?
Learn the Best Prices on Items You Buy Regularly
You don't have to do anything major. Some people are super organized and make a price book to find the absolute best, rock bottom prices they've seen and only buy the item then. I prefer to just make a mental note of best prices and only shop at a couple of places to keep it less confusing. I shop at Kroger mostly, with Aldi and Target supplementing when I want a change or find a great deal. I know that I like to buy bread when it's $1, milk for $1.99, etc.
Shop the Sales Ads
When you get the flier out and choose just the best deals, you will automatically save more. I always plan my weekly list around what's on sale. I also shop in the "manager's special" sections first before choosing the sales items in case I can replace $3.99 meat with $1.99. There are almost always even better deals there if you know what day the major markdowns are!
Plan your Meals
When you are trying to keep your grocery budget low, having a plan to buy just what you need for the week is key. Check out my method for meal planning here. It is important to make your list and stick with it, otherwise your budget can double, or even triple! Believe me, it has happened to me on more than one occasion! Those little impulse buys add up in a hurry!
Use Apps to Save Without Coupons
I don't like all the paper and organizing of coupons, but that doesn't mean I won't use them if they are at my finger tips! There are several apps I use to help me save on groceries with minor effort on my part.
Kroger App: This allows me to shop the weekly ad on my phone, make a list and quickly download the electronic coupons to my loyalty card without having to keep up with anything.
Target App: There is a place to check the weekly ad as well as an instant mobile coupon bar code. Just scan at checkout and see if you have any savings!
Target Cartwheel: I use this quite a bit at Target. You can save up to 50% on an individual item if you use cartwheel! I like to scan the bar code on any big ticket item to check for a discount or if I'm feeling especially frugal, sort the deals by discount percent and see if anything I want is above 20% off.
Checkout 51 and Snap by Groupon: these are for after I've shopped. You just scan in your receipt and it will give you cash back on items you have already bought. I like that they both have things like milk, eggs, bread and produce so you can actually get cash back on real food items!
There are tons of ways to save on groceries without coupons and these are just a few methods that I use regularly. What are some of the ways you have found to save without making yourself crazy, clipping, organizing and remembering those coupons?