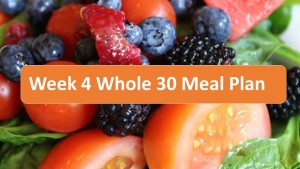 So, it's the last "official" week of my whole 30. I do not expect to make a drastic change to my eating habits after this week is done because I've been feeling so great. It has been much easier to stick with this plan, despite the restrictions, than any other diet I have been on. Cravings? Gone. Energy? WAY up! I feel fantastic and will plan on following this plan 80-90% of the time after this month indefinitely. I will be keeping up the same types of breakfasts (eggs and fruit) and lunches(salad or leftovers) as last week, so this plan will be for dinners only but the grocery list will show what I bought for all 3 meals. So without further ado: 7 more days of whole meals for less than $75 for two!
Sunday:
Steak and scallops with baked potato and vegetables
Monday:
Baked fish with vegetables
Tuesday:
Baked potatoes with leftover chicken and broccoli
Wednesday:
Tomato Soup
Thursday:
Meatloaf with mashed potatoes and vegetables
Friday:
Baked Fish with vegetables
Saturday:
Chicken legs with baked potato and vegetables.