Hey, guys!
It's been awhile since I updated where I've been with my New Years challenge!
It's week 6 now, and I've been making progress on the plan. I've gotten to 5 servings of produce, lots of water, eating at the table for dinner, 10 min of exercise daily and no more takeout.
It's not been all cupcakes and rainbows either.
I thought taking little steps would be easier to manage, and in a way, it has been. But I've still struggled a bit.
The two hardest parts have been remembering to pack my lunch before I'm late for work and getting in the exercise.
I've cleaned out the fridge. Here's the before: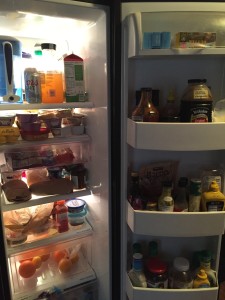 And the after: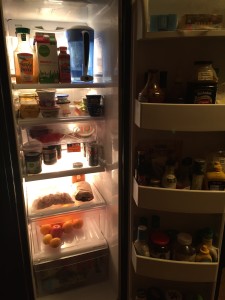 I've not been perfect, but it's a work in progress and as long as I'm seeing improvement, I'm pretty happy so far.
But, there's been one glaring thing that is slowly chipping away at my confidence: I haven't seen results on the scale yet.
I know why. My diet hasn't really changed minus these few little steps. I've still been eating relatively heavy dinners and lunches.
That's got to change. I know myself. If I don't see some kind of measurable result, I'll give up.
So I'm adding a few steps in to speed things along this week.
One thing I definitely wanted to get back to is meal planning.
It's not only good for time management, it helps me eat better and most definitely helps my pocketbook! I'll be posting weekly meal plans with dinner as my top priority.
I'm cutting (but not counting) calories. I know myself. If I have to track every bite I eat, I'll stop. So I'm just going to make sure I choose low-calorie options at each meal and make a healthy dinner.
So, without further delay, here's what's for dinner!
Monday: burgers with sweet potato fries
Tuesday: taco salad
Wednesday: Slow cooker chicken Marsala
Thursday: leftovers
Friday: stir fry
Saturday: chicken and veggies
Sunday: meatballs