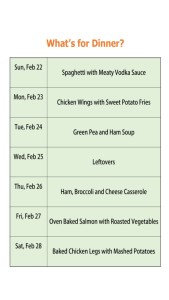 This week I am going with a "use what you have already" approach to menu planning. I whipped up a batch of Egg Cups for breakfasts, as well as have the ingredients for a couple of smoothies and the always handy oatmeal at the ready!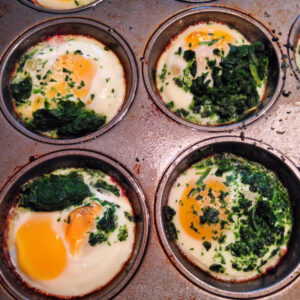 For lunch, I have leftovers and these meals will generally provide ample leftovers! I took the ham I made at Christmas-time out of the freezer- it's time to use that bad boy up! This is why you will see several "ham-centric" meals here- I needed to think of creative ideas to use up leftover ham!
For dinners, I have plenty to choose from. If you are looking for recipes, I will be providing them throughout the week, so you'll have to just stay tuned! I'm working on trying to get a more consistent method to my posts. I'm going for a meal plan at the beginning of the week, any relevant recipes throughout the week on the days they are to be made, and a financial post towards the end of the week. Ya'll have to bear with me since I'm new to this!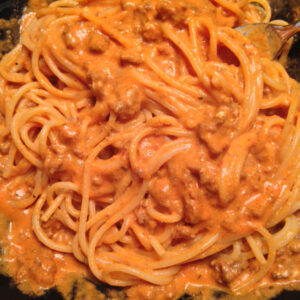 So this week, the menu is as follows- check back for recipes to each of the dinner items!
Sunday- Spaghetti with Meaty Vodka Sauce
Monday- Chicken Wings with Sweet Potato Fries
Tuesday- Green Pea and Ham Soup
Wednesday- Leftovers
Thursday- Ham and Broccoli Casserole
Friday- Oven Baked Salmon with Roasted Veggies
Saturday- Baked Chicken Legs with Mashed Potatoes