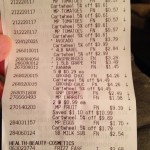 This is the grocery list for Week 4. I came in significantly under budget this week due to some great sales I saw at Target. Bonus: all of the items I needed were in one spot except for the tomato sauce! Quickly in and out!
Fresh Produce:
Bag of Potatoes: $3.03
Bag of Avocados: $3.79
Bag of Oranges: $2.84
Raspberries: $3.29
Grapes: $3.49
Bananas: $1.45
Meat:
2 lbs Ground Chuck: $8.52
Chicken Drumsticks: $2.49
Frozen:
Fish Fillets: $7.29
Frozen veggies: $0.99 each
Frozen fruit: $9.39
Other:
4 Cans Tomatoes: $2.28
Eggs: $1.70
Organic Almond Milk: $2.54
I used the Target weekly coupon, cartwheel, and my Redcard discount to save even more. I did not get lettuce this week since I have some leftover from last week. I did buy some dish soap, shampoo and conditioner which do not count toward the total. So, overall I spent about $55 on groceries this week.