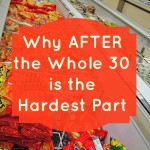 Well, it's been just over a week since I wrapped up my whole 30. I wish I could say that everything was going great, I had stayed the course and was continuing to follow the plan. I have not.
I haven't been miss piggy or anything, but I have definitely let old habits creep back up on me. Dairy, grains, fats and processed stuff have all made an appearance at least once this week.
I feel that sticking to the plan was really very easy during the 30 days because they had an expiration date. Now that that is over and it's a lifestyle change, it is much harder to say I can't have something indefinitely. So what's the harm in having pizza for dinner or those cupcakes for Julie's birthday?
So, what's a girl to do at this point? Give in and give up like I have EVERY SINGLE OTHER TIME? No. I don't think so. It's time to start over.
I have to find a happy medium between eating real food, keeping on budget and giving some wiggle room for truly special treats or occasions. I should not be eating processed foods each and every day. 6 out of 7 days should be 100% on plan.
So from this point on, I am making a commitment to start fresh, follow the program and the meal plans I set and not give in just because there's tasty treats in the breakroom or I forget to take the meat out of the freezer and decide to eat a hot pocket.
I feel sad that I have given in to old habits so easily, but I want to be accountable and admit when I have trouble and when I succeed. I think I can really make it work this time and I appreciate the support you all are providing.
What are some tips and tricks you use to stay on track with your healthy lifestyle?