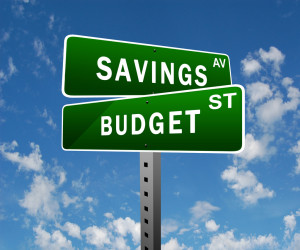 How did everyone's Frugal February Challenge go? Did you stick with the plan of not buying anything not necessary for survival or did the month's festivities put a damper on your plans?
I stuck with it pretty well. We did have a couple of setbacks. We went out to eat twice. I accounted for Valentine's day expenses when I wanted to start the challenge, but I overspent a bit. Between my husband and I we spent just about $125 on gifts and food, which was more than I would have liked. The hubs also bought tickets to an MMA fight he and a friend will be going to next month, which was well over the planned budget, but will be a fun break for him next month.
Even though we strayed a bit from the plan, we did manage to make our goal and then some of saving $3000 towards eliminating the student loan debt. We paid off one of the hubs' loans and made our regular payments on the others. I made the last payment on my smallest loan as well. So that's two out of 7 student loans eliminated! All in all, we paid about $4000 this month, so I would sat the challenge was a success!
The great news for last month was that the hubs finally got the job he had been trying for. This will mean a steady paycheck with a possibility for overtime hours. After getting his first paycheck this Friday (about $650) I did some quick math and determined that his new income has the potential to cover all of our day-to-day expenses and bills with the exception of the debt payments we have to make on the student loans.
This past check did have some overtime hours on it, so I'm not sure if it will be indicative of an "average week" or a "good week" and that will be the deciding factor in whether we can do what I've been hoping we could for a long time: Live on just one income. And not mine!
The question is, is this a feasible task or just wishful thinking? I'm going to take this month to try and figure it out. If we can make it work, we can put about $75,000 towards our debt over the next year. That would be AMAZING! If we can keep that pace up, we could be debt and mortgage free in less than 5 years! WOW!!!!
So let's crunch some numbers! Here's what our expenses look like in a normal month:
Bills:
Mortgage: $1100
Electric: $50
Gas: $50
Phone: $200
Satellite: $200
Internet: $50
Water and Trash: $100
Car Payments: $700
Groceries: $300
Total: $2750
Current Student Loan Debt:
Minimum Payments: $1400
Goal Payment: $7000
Total Owed: 165000
Now, in order to make this happen, I don't think we can keep the bills as they stand. There isn't enough wiggle room in the expenses to work with the Hubs' checks. He would have to consistently make more than $700 a week for this to work as we are. So, I will be looking at where we can cut back to make this change more comfortable and a real possibility (satellite and phone bill, I'm looking at you!)
Over the next month, we will attempt to only use my check for paying off debt. We do have a good cushion in the checking account right now so it should be fine, but I'd like to make it work without dipping into the emergency fund. That will tell us if this is a lifestyle change we can make permanently or if we will have to keep whittling at the budget or take some of my income for bills as well. Wish us luck!
What are your tips for staying on a tight budget or living on a single income?