Raising a baby isn't exactly cheap. In fact, according to a USDA report you will spend approximately $12,000 during the first year of your baby's life alone. New parents quickly realize just how expensive raising a child is, with 40% of mothers saying that having a child costs a lot more than they had first expected.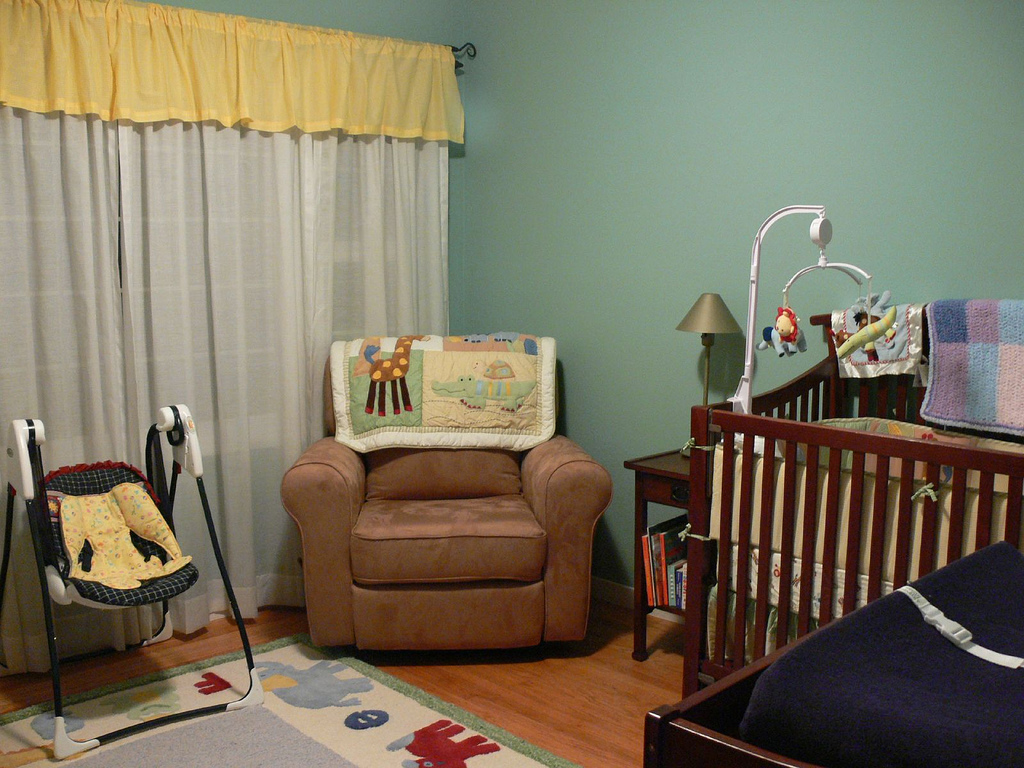 With the cost of raising a child being so high, it's important to be prepared and save money where you can. Setting up your dream nursery doesn't have to cost you a fortune. If you plan ahead, get a bit creative with your design and avoid unnecessary purchases, you can create the nursery you've always wanted. This infographic shows you 10 simple tips for creating a Pinterest-worthy nursery on a budget.
Choose a nursery theme
The key to saving money on your nursery bills is to plan ahead. Try and choose a theme or color scheme you like early on. That way, you can keep an eye out for good bargains that would suit the theme whenever you're out shopping. Goods marketed as "baby products" tend to be more expensive, so keep your nursery in mind even if you are at a large discount store or garage sale.
Buy second-hand and upcycle
Spot a good deal at a garage sale? Don't be afraid to buy used items and upcycle them in a way that will fit in with your nursery theme. Make sure you read through safety guidelines to know which products are safe to buy used and which ones you should avoid.
Go for a convertible crib
It's always best to buy a new crib and investing in a convertible one is your best choice. Babies quickly outgrow their crib, so it helps if you buy one that can convert into a toddler-friendly bed. It may be a higher cost initially, but it will save you money in the long run.
Combine the dresser and changing table
The changing table is one item of furniture you can definitely do without. They quickly outgrow their usefulness and tend to be on the pricey side. Instead, buy a padded changing matt and combine it with your dresser. That way, you not only save yourself money, but you also save yourself valuable floor space.
Make your walls a focal point
Walls can easily be decorated with inexpensive wall decals to add a great decorative touch to the room without spending a fortune. The good thing is that they can easily be removed once your baby has outgrown the design. It's an easy way to really bring your theme alive and they can be bought for as little as $3.
Avoid expensive bedding sets
Not only are bedding sets expensive, but they can also put your child at risk of injury or death. CPSC staff recommends you keep your crib clear of clutter, so get rid of the pillows, thick blankets and sleep positioners. All you need is the mattress and well-fitting crib sheet.
Be storage savvy
Storage is a must for any nursery, but that doesn't mean it has to be boring. You can find great canvas storage boxes that add a nice decorate touch to your nursery for a low price. Also think about getting a storage ottoman that you can double up as a seat so you have somewhere for people to sit.
Try DIY
When it comes to decorating your nursery on a budget, DIY is the way to go. There are lots of great online tutorials that teach you how to make your own mobiles or decorative garlands to add a nice personal touch to the nursery. Make something related to your theme to really bring the nursery together.
Get a decorative rug
Putting a rug down not only helps to brighten up the room, but it also gives your baby a soft space to play around. Opt for a wool/sisal blend for a cheaper option that is non-toxic, non-allergenic and anti-bacterial. Rugs are a lot easier to clean and maintain than carpeted floors, so will also help you with cleaning costs.
Use affordable shelving
Shelving may sound boring, but there are plenty of ways you can get creative and take your nursery décor to the next level. Integrate shelves into the design of your nursery, such as creating a book display with picture ledges or placing the shelves on the braches of a tree wall sticker. Shelves are inexpensive, but when used right, can really stand out.
When it comes to designing a Pinterest-worthy nursery, it's all about getting a little creative. Save money where you can by going for used items or making things yourself. What are some ways you have saved money on your nursery décor?

Bio:
Saskia is a freelance writer and creator of My Kind of Monday, a lifestyle blog about work, life, and how to make the best of both worlds. She hopes to help people find happiness in every aspect of life. Follow her on Twitter and check out her website for more.